Auto-match is designed to match penpals for you without your effort to screen the user list.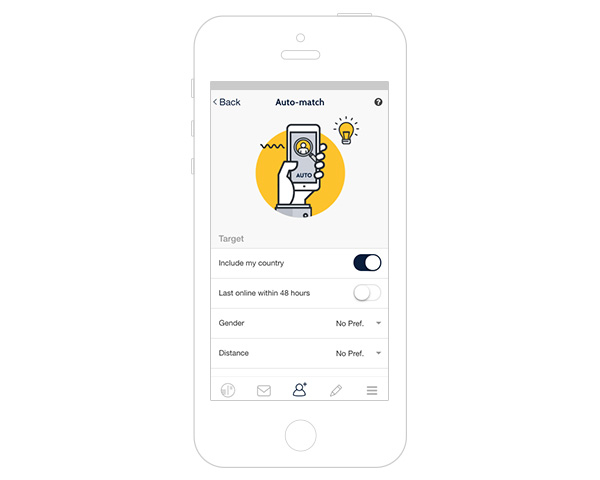 Step 1. Set the filters
There are a couple of filters to help improve the auto-match results, e.g. Gender, Languages, Topics, etc. All matched penpals will satisfy these pre-set filters.
Step 2. Write a letter
After the settings you will have to write your first letter by tapping "Write Now" button (at the bottom) – Please try to make it memorable & fun! We recommend you to write a longer, more detailed letter for the first time.
Step 3. Review
After you tap "Save" on the draft letter (top right corner), you will return to the filter page and let you review all your settings before auto-match. You can change your filters, or tap "Edit" to edit your letter.
Step 4. Begin Matching
When everything is set, you can tap "Begin Matching". The system will auto-match 1-3 penpals for you at a time.
Step 5. Send to selected users
You can unselect the matched users, or keep the original result. Then, tap "Send to selected users" to send out your letter.
Auto-match can only be used once per day.